Pre-E3 News Link Roundup (Day 2)
One day closer to E3 means another day of pre-E3 releases and news so let's get to it!
Game Informer Confirms New 'Gears of War' Title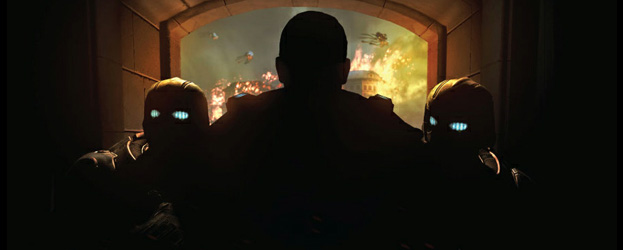 If July's Game Informer magazine cover (or the words on their site confirming it) is to be believed, we'll be seeing a brand new Gears of War game announced at E3 this year with more details emerging when the latest issue of GI arrives in stores in the next few weeks. While obviously details are somewhat scarce, it's clear that, judging by the apparent prisoner on the cover, someone messed up bad.
Source: Game Informer
Bethesda Gives Us a First Look At Skyrim's 'Dawnguard' DLC
After keeping details fairly close to the chest, Bethesda has taken to their Twitter account to reveal a first look at the upcoming Skyrim downloadable content Dawnguard. Some of the notable additions to the game include crossbows, mounted combat and what looks to be several new areas to explore. The DLC will run 1600 points ($20) and will be available exclusively on Xbox 360 later this summer with PS3 and PC releases shortly after.
Source: Joystiq
Warner Bros. & NetherRealm Announce DC Comics Fighting Game 'Injustice'
Fresh out of bringing new life back into the Mortal Kombat series, developer NetherRealm and publisher Warner Bros. have announced a brand new fighting game featuring the characters of DC Comics which will presumably use the engine from the most recent MK game but feature beatdowns of superhuman proportion. For bonus points, check out Gamespot's interview with NetherRealm's Ed Boon as he discusses the new game (link).
Source: Gamespot
'Halo 4' Multiplayer Details Leak Ahead of E3
A handful of screenshots have made their way online revealing some of the details for Halo 4's multiplayer mode including the already mentioned ability to set a custom loadout for characters as well as special abilities for the player such as a Regeneration Field and Promethean Vision to name a few. More details will undoubtedly emerge next week during Microsoft's E3 conference.
Source: G4
Seen something we didn't? Leave us a comment and share it with us! Also, be sure to join our ongoing E3 event on Facebook for news from the show and the chance to win some exclusive merchandise from the convention later next week!
Leading up to E3, we'll be grabbing early news, videos and links from some of the top gaming websites and compiling them each day into a nice handy list for you to peruse at your leisure.