PNP Games Super Smash Bros 64 Tournament July 28th!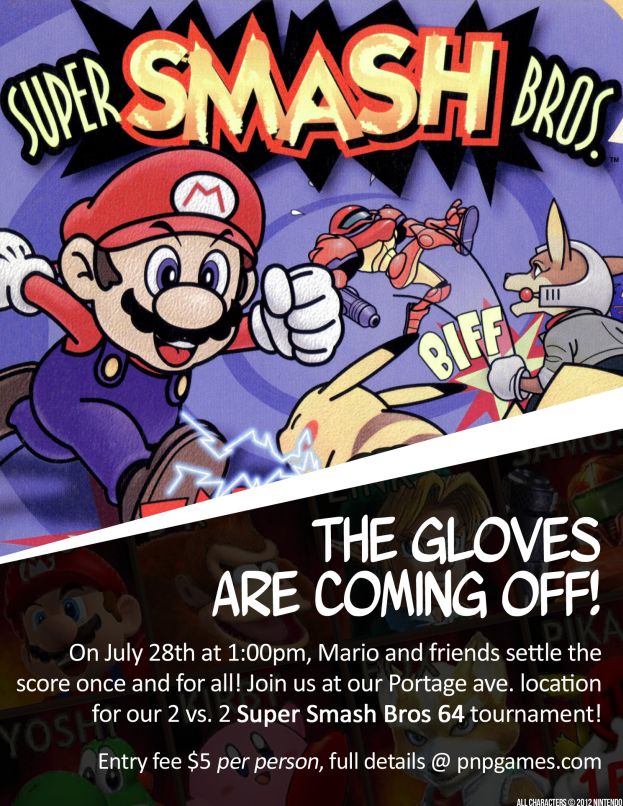 Join us on July 28th at PNP Games (2609 Portage Ave.) for our 2 vs 2 Super Smash Bros 64 Tournament!
Round Robin Rules:
Matches will be played 2 vs. 2, 3 stock
All characters permitted, character swapping between rounds is fine
1 point per remaining stock at the end of a match
1 BONUS point for having both team members alive at the end of the match (Therefore a max of 7 points are up for grabs to the winning team each round)
Rounds 1 through 4 will be spent gathering points
Top 4 teams meet in 5th round
Round 6 will be the final round with the two winning teams from round 5
Additional Rules:
Stages will be predetermined and announced in the days leading up to the tournament
All items will be on, with medium frequency
Stages:
Round 1 – Saffron City
Round 2 – Dream Land
Round 3 – Sector Z
Round 4 – Hyrule Castle
Round 5 – Peach's Castle
Round 6 – TBA
Entry:
Registration begins at 12:00pm, Tournament kicks off at 1:00pm
$5 per person entry fee ($10 per team)
Prizes:
TBA
**If you don't have a partner one will be assigned to you! (2/3 of our Smash Tournaments have been won by a team of strangers!)**
Thinking of coming down? RSVP right now on Facebook!