PNP Games is Hiring!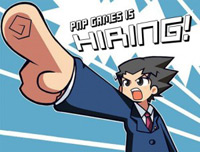 PNP Games is now looking for skilled, hard-working and outgoing individuals to fill some positions at our warehouse and online support locations, as well as our retail locations at 915 McLeod Ave. and 2609 Portage Ave. Think you've got what it takes? Feel free to drop off a resume and fill out an application for the position at either of our PNP Games stores regardless of the position you're applying for. A few things to keep in mind before applying:
We require all applicants to be at least 18 years old
Applicants should be familiar with both past and current video games / consoles
(For retail positions): Retail experience isn't required but will be heavily considered when we make our final hiring choice.
If you have any questions, feel free to call, email or visit the McLeod or Portage locations for more information.
Update 08/20/2013: Our warehouse and online support positions have been filled, however we are still looking for retail employees.
Note: Resumes must be submitted in person at either location and not in the comment form below.
Expand the article for more information.
Warehouse Job Details:
• Small item shipping and receiving
• Picking and packaging orders
• Organizing Stock
• Cleaning and testing of games, consoles and accessories
Online Support Job Details:
• Answering customer emails
• Answering customer phone calls
• Locating images for inventory items/online marketplace listings
• Processing customer returns
• Ensuring accuracy of serial numbers for items listed to online marketplaces
• Ensuring accuracy of item details listed to online marketplaces
Ideal candidate would have the following qualifications:
1+ years customer service experience in a retail setting or call centre environment.
Demonstrated 50+ words per minute typing speed with no errors.
Demonstrated grammar skills
Demonstrated spelling skills
Familiarity with online marketplaces (eBay & Amazon preferred)
High School diploma
Clean criminal record
Please consider that while these qualifications are not requisites, having them is an asset.