The PNP Games Warehouse is Hiring!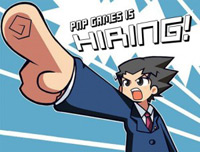 PNP Games is now looking for skilled, hard-working and outgoing individuals to fill some positions at our warehouse. Think you've got what it takes? Feel free to drop off a resume and fill out an application for the position at any of our PNP Games stores regardless of the position you're applying for. A few things to keep in mind before applying:
We require all applicants to be at least 18 years old
Applicants should be familiar with both past and current video games / consoles
If you have any questions, feel free to call, email or visit one of our three PNP Games locations!
Note: Resumes must be submitted in person at either location and not in the comment form below.
Expand the article for more information.
Warehouse Job Details:
• Small item shipping and receiving
• Picking and packaging orders
• Organizing Stock
• Cleaning and testing of games, consoles and accessories
Customer Service Job Details:
• 1+ years customer service experience in a retail setting or call centre environment.
• Demonstrated 50+ words per minute typing speed with no errors.
• Demonstrated grammar skills (60% or higher)
• Demonstrated spelling skills (80% or higher)
• Familiarity with online marketplaces (eBay & Amazon preferred)
• High School diploma
• Clean criminal record
We will be hiring for the warehouse position immediately. The customer service position would begin August 11th, 2014.