Smash is in the Air! Tournament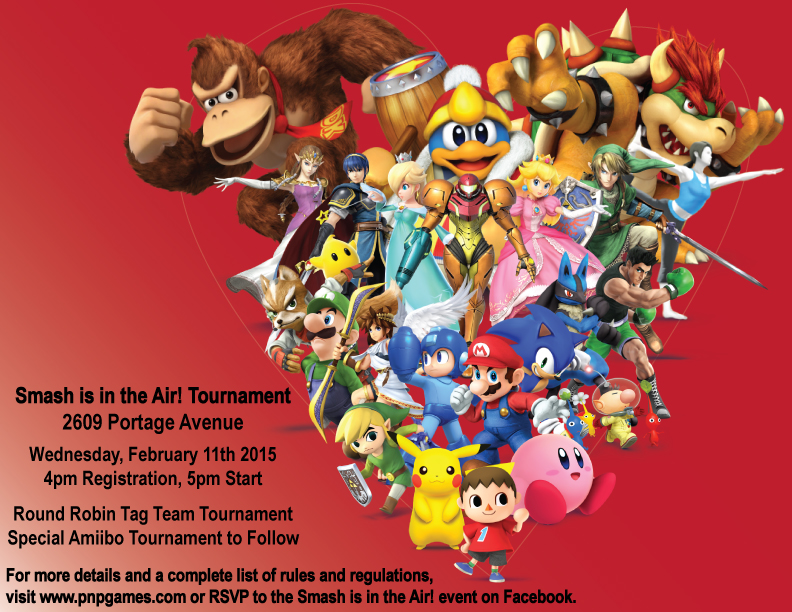 Expand for more details!
Wednesday, February 11th, 2015
2609 Portage Ave.
4:00pm Registration
5:00pm Tournament Start
$10 per individual entry
$5 for XP Members
Super Smash Bros. for Wii U Tournament
2v2 Round Robin
-2 Stock, 6 minute time limit
-Stock Sharing On
-Items Off
-Mii Fighters Banned (All other characters usable)
Allowed Stages (So far):
-Final Destination, Omega Stages, Battlefield, Town and City, Smashville, Duck Hunt, Lylat Cruise, Halberd, Delfino Plaza
-Stage must be agreed on by both teams. Banned stages are allowed if both teams agree to play them.
Scoring
-Everyone is guaranteed to fight 4 rounds. At the end of a match you will receive 1 point for each remaining stock you and your team member have and an additional point if both team members are standing at the end of the fight.
-Teams will be reseeded between rounds to ensure teams are facing opponents of similar skill.
-At the end of 4 rounds the top 4 teams move on to the semi-finals which consists of a 2 single elimination matches.
-Top 2 teams then face off in a best of 3 rounds battle to decide the overall winner.
Special Amiibo Side-Tournament – Free Entry!
8 Player Free For All
-5 minute time limit, most kills wins
-Player maximum per match subject to change depending on turn out
-Top 2 Amiibos move on after each fight
-When 4 Amiibos remain they will fight in a single elimination 1v1 tournament
-Final 2 Amiibos duke it out 1v1 to decide winner
Store Credit Prize for Winners of the Super Smash Bros. for Wii U tournament.
Secret Prize for Winner of Amiibo Side-Tournament.
***Update***
Thank-you to all our glorious combatants whom came out to our first ever Super Smash Bros. for Wii U Tournament. We had 16 teams battle out to see whose Smash reigns supreme.
Congratulations to our champions, Rory and Eric, for taking the top spot as well as to Riley and Des for bringing in a close second, and our Amiibo champion tonight, Goku (Lucario), as well! Please leave any questions or comments below. Have a smashing night everyone!