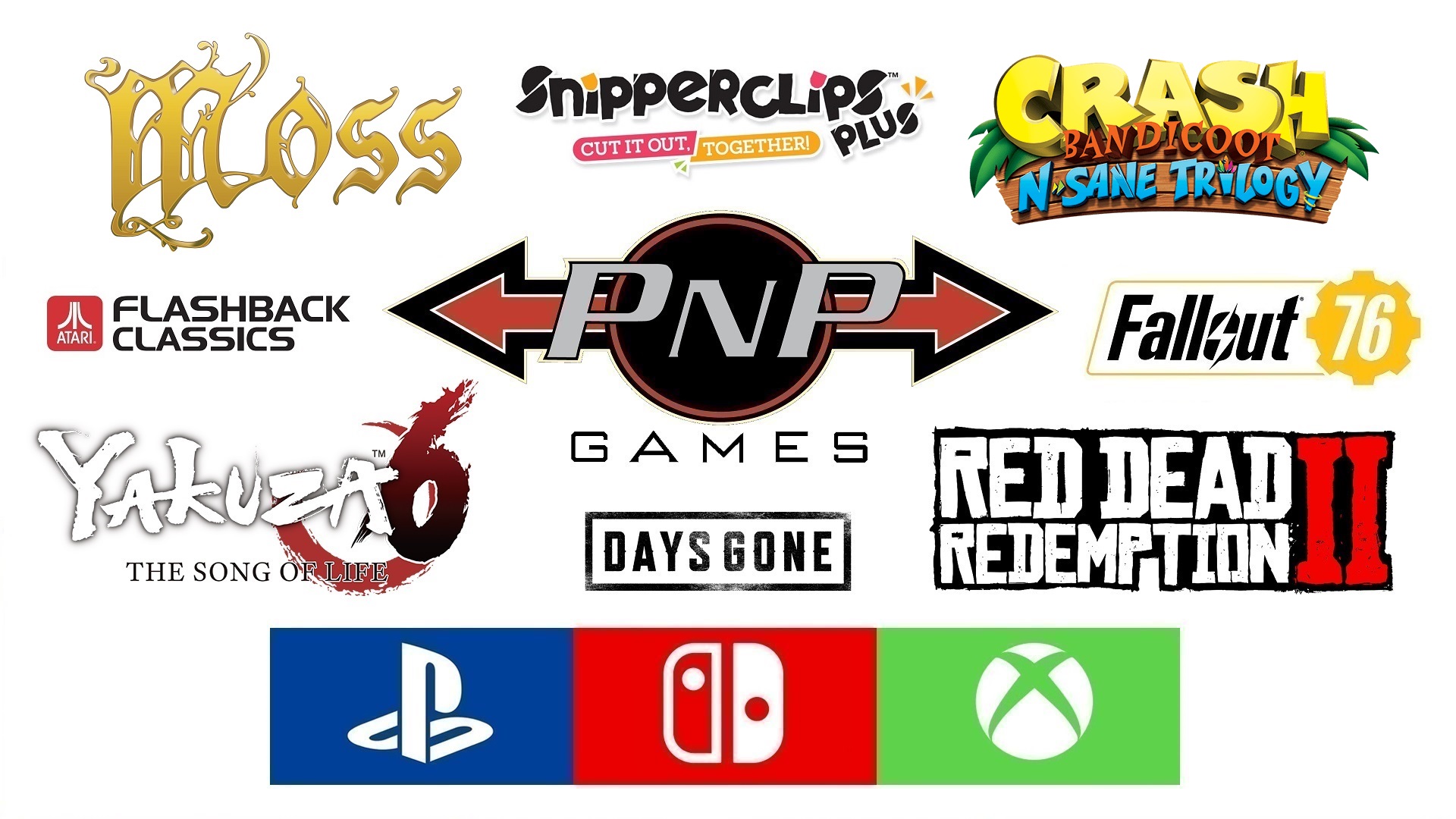 XP Members receive DOUBLE XP Points on all purchases until June 30th, 2019!*
Receive 15% additional trade credit when trading in any complete PlayStation 4, Nintendo Switch, or Xbox One titles at any PNP Games location!**
Anthem Legion of Dawn Edition (PS4 Only) – $29.99 (Reg. $39.99)
Atari Flashback Classics (NSW) – $49.99
Crash Bandicoot N. Sane Trilogy (PS4/XB1) – $39.99 (Reg. $49.99)
Days Gone (PS4) – $59.99 (Reg. $79.99)
Elder Scrolls Online Gold Edition (PS4/XB1) – $19.99 (Reg. $79.99)
Fallout 76 (PS4/XB1) – $29.99 (Reg. $79.99)
FIFA 19 (PS4/XB1) – $24.99 (Reg. $39.99)
Gran Turismo Sport Limited Edition (PS4) – $29.99 (Reg. $49.99)
Monster Hunter World (PS4 Only) – $39.99 (Reg. $49.99)
Moss (PSVR) – $29.99 (Reg. $39.99)
NHL 19 (PS4/XB1) – $24.99 (Reg. $39.99)
Red Dead Redemption 2 (PS4/XB1) – $59.99 (Reg. $79.99)
Snipperclips Plus: Cut It Out, Together! (NSW) – $39.99 (Reg. $44.99)
Yakuza 6: The Song of Life – Essence of Art Edition (PS4) – $44.99 (Reg. $54.99)
Grey OR Neon Joy-Con Nintendo Switch Console – $379.99
Tempered Glass Screen Protectors (2 Pack) – $9.99 (Reg. $14.99)
Breath of the Wild Secure Game Case (PDP) – $9.99 (Reg. $14.99)
Datel Go-tcha Wristbands (for Pokémon Go) – $39.99 (Reg. $49.99)
Datel Go-tcha Ranger (for Pokémon Go) – $49.99 (Reg. $64.99)
PlayStation 4 Pro 1TB Console – $449.99 (Reg. $499.99)
PlayStation 4 Slim 1TB Console – $349.99 (Reg. $379.99)
PlayStation Classic – $49.99 (Reg. $79.99)
Kunai Stereo Headset [TRITTON] – $29.99 (Reg. $49.99)
PlayStation 4 DualShock 4 Controllers (Black ONLY) – $59.99 (Reg. $74.99)
Xbox One X 1TB PUBG Bundle – $479.99 (Reg. $599.99)
Xbox One S 1TB Sea of Thieves Bundle – $269.99 (Reg. $379.99)
Xbox One Stereo Headset – $59.99 (Reg. $74.99)
Xbox One 3.5mm Controllers (White OR Black) – $49.99 (Reg. $74.99)
*Not an XP member yet? A lifetime membership is just $10 and includes:
-10% off all used game purchases!
-Exclusive sales and deals!
-Earn points with every sale (12.5 points per dollar spent, double on Wednesdays and for the rest of June 2019)!
-Redeem 10,000 points for $10 off your purchase of anything in store!
-Earn 5,000 bonus points every time you preorder an upcoming title two weeks prior to it's release!
**This bonus does not apply to incomplete games, accessories, or systems.
While supplies last. No holds or rain cheques.