Spring into Smash! Tournament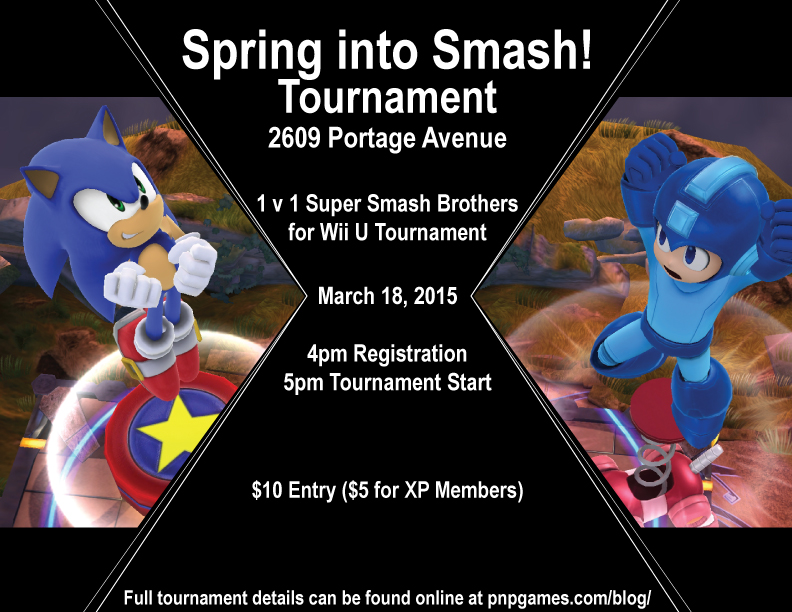 Expand for more details!
Wednesday, March 18th, 2015
2609 Portage Ave.
4:00pm Registration
5:00pm Tournament Start
$10 per individual entry
$5 for XP Members
Super Smash Bros. for Wii U Tournament
1v1 Double Elimination
-2 Stock, 6 minute time limit
-Items Off
-Mii Fighters Banned (All other characters usable)
-Best 2 of 3
-Allowed Stages:
Final Destination, Omega Stages, Battlefield, Town and City, Smashville, Duck Hunt, Lylat Cruise, Halberd, Delfino Plaza.
-1st pick stage must be agreed on by both players. Banned stages are allowed if both players agree to play on them. Random if no agreement.
-Loser counter-picks stage
Special Amiibo Side-Tournament – Free Entry!
8 Player Free For All
-5 minute time limit, most kills wins
-Player maximum per match subject to change depending on turn out
-Ties are broken with sudden death 2 stock matches
-Top 2 Amiibos move on after each fight
-When 4 Amiibos remain they will fight in a single elimination 1v1 tournament
-Final 2 Amiibos duke it out 1v1 to decide winner
Store Credit Prize for Winners of the Super Smash Bros. for Wii U tournament.
Secret Prize for Winner of Amiibo Side-Tournament.