Back to Basics Smash 64 Tournament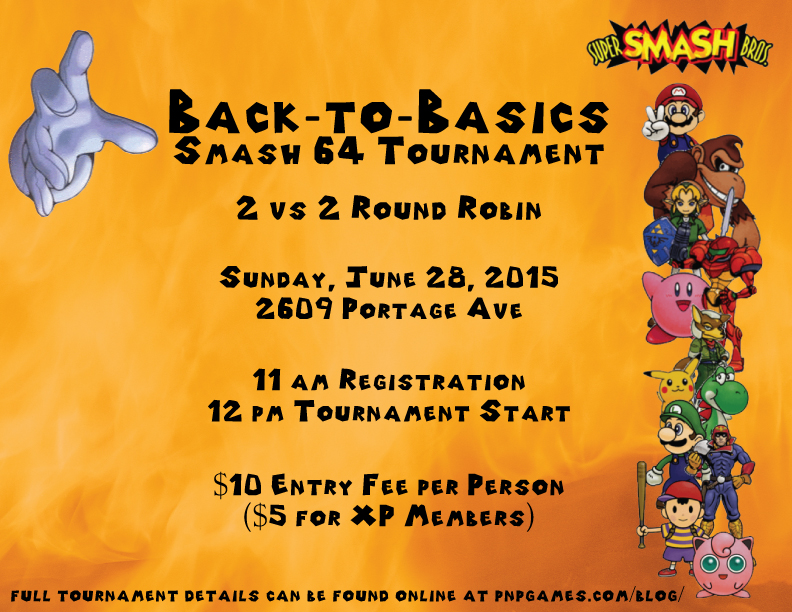 Join us on June 28th at PNP Games 2609 Portage for a 2 vs 2 Super Smash Bros 64 Extravaganza!
Expand for more details and rules!
Round Robin Rules:
Matches will be played 2 vs. 2, 3 stock
All characters permitted, character swapping between rounds is permitted
1 point per remaining stock at the end of a match
1 BONUS point for having both team members alive at the end of the match (Therefore a max of 7 points are up for grabs to the winning team each round)
Rounds 1 through 4 will be spent gathering points
The Top 4 Teams (possibly more based on turn out) will battle it out in a single elimination format
When two teams remain the final match will fought best 2 out of 3 wins
Additional Rules:
Stages will be predetermined and announced in the days leading up to the tournament
Items will be OFF
Stages:
Round 1 – Yoshi's Island
Round 2 – Sector Z
Round 3 – Saffron City
Round 4 – Peach's Castle
Single Elimination Semi-Finals and Finals – Congo Jungle / Hyrule Castle / Dream Land (Each team strikes one stage)
Rounds 1-4 must be fought on predetermined stages
During semi-finals and finals any stage is playable if both teams agree to play there
Entry:
Registration begins at 11:00am, Tournament kicks off at 12:00pm
$10 per person entry fee ($5 for XP Members)
Prizes:
To be determined at the tournament~
Want to keep up to date on tournament updates?
RSVP here!