Featured Items June 22nd – 28th, 2018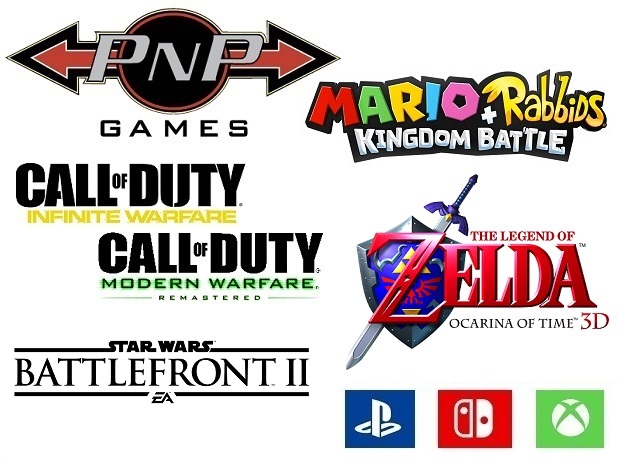 Expand for details!
25% Off All Plush Collectibles
Purchase a Grey OR Neon Joy-Con Nintendo Switch console ($399.99) and receive a $20 PNP Games Gift Card for FREE!**
Breath of the Wild or Super Mario Odyssey Lunch Box Accessory Kits (Includes themed headphones and Joy-Con Grip) – $29.99 Each
Fire Emblem Warriors Special Edition (NSW) – $69.99 (Reg. $99.99)
Mario + Rabbids Kingdom Battle (NSW) – $49.99 (Reg. $79.99)
Minecraft Switch Edition (NSW) – $29.99 AVAILABLE NOW!
2DS Green Ocarina of Time Bundle – $109.99
The Legend of Zelda Ocarina of Time (Selects, 3DS) – $19.99 (Reg. $29.99)
Mega Man Legacy Collection (3DS) – $14.99 (Reg. $24.99)
PlayStation 4 1TB Pro Limited Edition Star Wars Battlefront II Bundle – $499.99
Black PlayStation 4 DualShock Controllers – $49.99 (Reg. $74.99)
Purchase an Xbox One X 1TB Console ($599.99) and receive a $50 PNP Games Gift Card for FREE!**
Xbox One S 500GB Gears & Halo Special Edition Bundle – $299.99 (Reg. $349.99)
Afterglow Prismatic Wired Controller for Xbox One – $39.99 (Reg. $49.99)
Call of Duty Infinite Warfare Legacy Edition (Includes Download Code for Modern Warfare Remastered) (PS4/XB1) – $29.99 (Reg. $59.99)
Destiny 2 (PS4/XB1) – $39.99 (Was. $54.99)
Star Wars Battlefront II (PS4/XB1) – $24.99 (Reg. $39.99)
**Free Gift Card with purchase of Grey or Neon Joy-Con Switch console, or Xbox One X console only (PROMO CODE: 2018JANGC)
While supplies last. No holds or rain cheques