Featured Items Sept 28th – Oct 4th, 2018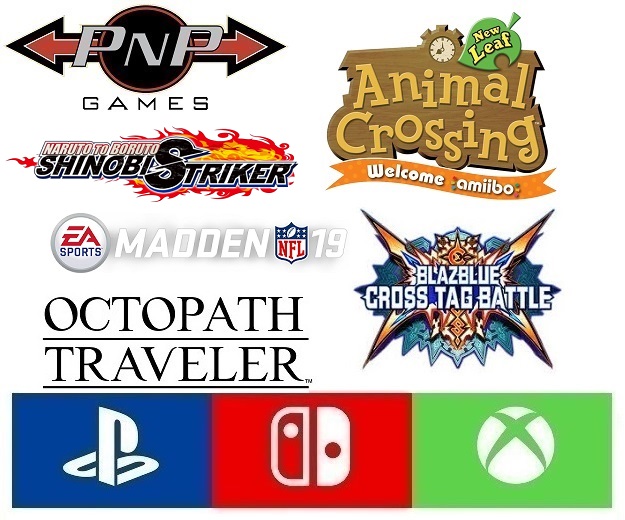 Expand for details!
Receive 15% additional trade credit when trading in any complete PlayStation 4, Nintendo Switch, or Xbox One titles at any PNP Games location!*
Grey OR Neon Joy-Con Nintendo Switch Console – $379.99
Breath of the Wild or Super Mario Odyssey Lunch Box Accessory Kits (Includes themed headphones and Joy-Con Grip) – $24.99 Each (Reg. $29.99)
Octopath Traveler (NSW) – $69.99 (Reg. $79.99)
SNK Heroines Tag Team Frenzy (NSW) – $59.99 (Reg. $64.99)
Okami HD (NSW, JP Import) – $49.99 Back in stock!
-Compatible with all Nintendo Switch Consoles
-100% English Language Support
-Not released physically in North America
Black New 3DS XL Console – $219.99 (Reg. $239.99)
Animal Crossing New Leaf Welcome Amiibo Selects Edition (3DS) – $29.99 Back in stock!
PlayStation 4 Slim 1TB Days of Play Limited Edition – $399.99
New DualShock 4 Controllers Berry Blue, Copper, Blue Camo, or Sunset Orange – $74.99 Available Now!
Crystal DualShock 4 Controllers – $64.99 (Reg. $74.99)
Xbox One X 1TB PUBG Bundle – $549.99 (Reg. $599.99)
Xbox One S 1TB Sea of Thieves Bundle – $349.99 (Reg. $379.99)
Xbox One Phantom Black Controller – $79.99 While supplies last!
Xbox One 3.5mm Controllers (White or Black Only) – $49.99 (Reg. $74.99)
BlazBlue Cross Tag Battle (PS4/NSW) – $44.99 (Reg. $64.99)
Call of Duty Infinite Warfare Legacy Edition (Includes Download Code for Modern Warfare Remastered) (PS4/XB1) – $29.99 (Reg. $59.99)
Madden NFL 19 Standard Edition (PS4/XB1) – $59.99 (Reg. $79.99)
Naruto to Buruto: Shinobi Striker (PS4/XB1) – $59.99 (Reg. $79.99)
Shenmue 1 & 2 (PS4/XB1) – $29.99 (Reg. $39.99)
*This bonus does not apply to incomplete games, accessories, or systems.
While supplies last. No holds or rain cheques