Featured Items Nov 30th – Dec 6th, 2018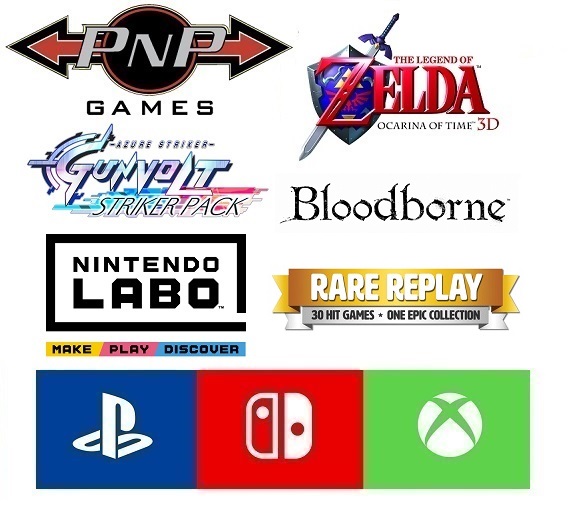 Expand for details!
Special Notice:
Super Smash Bros. Ultimate Launch at PNP Games
11:01pm CST Thursday, December 6th, 2018
Walk-in copies will be available while supplies last
Preorder to guarantee your copy on Nintendo Switch.

Stocking a bit under-stuffed?
PNP Games Gift Cards are available in store for any denomination over $10!
Receive 15% additional trade credit when trading in any complete PlayStation 4, Nintendo Switch, or Xbox One titles at any PNP Games location!*
Grey OR Neon Joy-Con Nintendo Switch Console – $379.99
TTX 4-Port GameCube Controller Adapter for Wii U / Switch – $29.99
CIRKA/TEKNOGAME GameCube Compatible Controllers – Starting at $17.99 Each
Nintendo Labo Toy-Con 1 (Variety), 2 (Robot), OR 3 (Vehicle) Kits – $69.99 (Reg. $79.99)
Octopath Traveler (NSW) – $64.99 (Reg. $79.99)
Azure Striker Gunvolt Striker Pack (NSW) – $34.99 (Reg. $49.99)
Black New 3DS XL Console – $219.99 (Reg. $239.99)
2DS Green Ocarina of Time Bundle – $99.99 (Reg. $109.99)
Hylian Shield Legend of Zelda New 3DS XL Carrying Case – $19.99 (Reg. $29.99)
Azure Striker Gunvolt Striker Pack (3DS) – $34.99 (Reg. $49.99)
The Legend of Zelda: Ocarina of Time 3D (3DS Selects) – $19.99 (Reg. $29.99)
Super Smash Bros. for 3DS (3DS) – $34.99 (Reg. $44.99)
PlayStation 4 Pro 1TB Red Dead Redemption 2 Bundle – $499.99
PlayStation 4 Slim 1TB Console – $329.99 (Reg. $379.99)
PlayStation Vita 2001 Model Console – $299.99 (Reg. $349.99)
PlayStation 4 DualShock 4 Black Controllers – $49.99 (Reg. $74.99)
PlayStation 4 DualShock 4 Silver or Crystal Controllers – $59.99 (Reg. $74.99)
Bloodborne (PS4) – $14.99 (Reg. $19.99)
Xbox One X 1TB Fallout 76 Bundle – $549.99 (Reg. $599.99)
Xbox One S 1TB Forza Horizon 4 Bundle – $299.99 ($379.99)
Xbox One 3.5mm Controllers (White, Black, or Creeper) – $49.99 (Reg. $74.99)
Rare Replay (XB1) – $9.99 (Reg. $29.99)
Call of Duty Infinite Warfare Legacy Edition (Includes Download Code for Modern Warfare Remastered) (PS4/XB1) – $29.99 (Reg. $59.99)
Deus Ex Mankind Divided (PS4/XB1) – $9.99 (Reg. $19.99)
Disney Infinity 3 Starter Pack (PS4/XB1) – $29.99 (Reg. $49.99)
The Elder Scrolls Online Gold Edition – $19.99 (Reg. $79.99)
Fortnite Deep Freeze Bundle (PS4/NSW/XB1) – $29.99
Homefront The Revolution (PS4/XB1) – $4.99 (Reg. $19.99)
Titanfall 2 (PS4/XB1) – $9.99 (Reg. $19.99)
5 Port HDMI Media Selector – $19.99 (Reg. $39.99)
Turtle Beach Stream Microphone – $59.99 (Reg. $99.99)
Sync your Pokemon Go game with Pokemon Let's Go for Nintendo Switch Available Now!
Datel Go-tcha Wristbands (for Pokemon Go) – $39.99 (Reg. $49.99)
Datel Go-tcha Ranger (for Pokemon Go) – $49.99 (Reg. $64.99)
The Go-tcha Ranger includes all the features of the Go-tcha Wristband PLUS:
-Built-in 1200mAh battery to charge your smartphone
-Belt clip, LED torch, and compass
*This bonus does not apply to incomplete games, accessories, or systems.
While supplies last. No holds or rain cheques