PNP Games – Featured Items – March 5th – 11th, 2021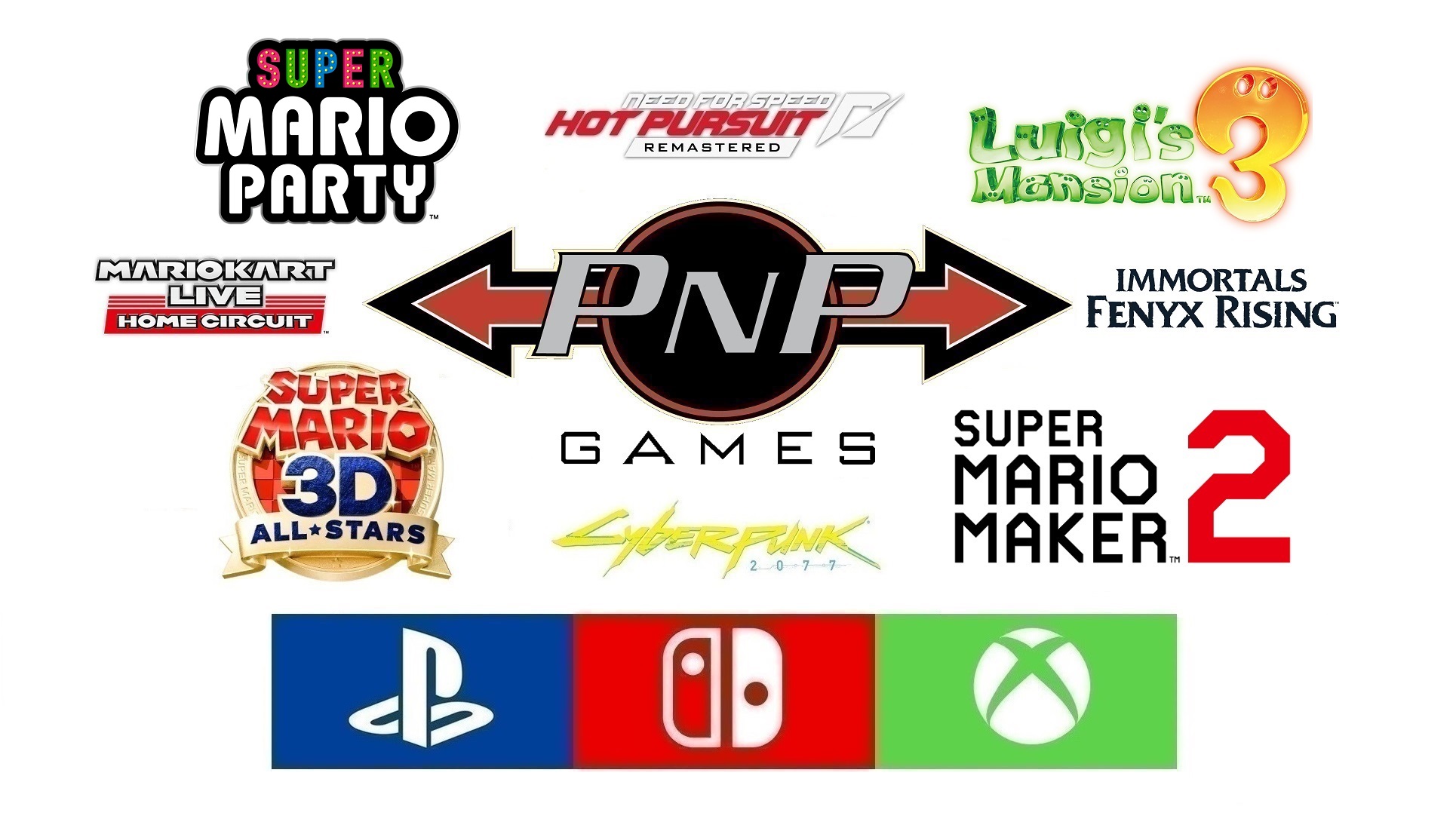 Expand for details!
SHOP PNP GAMES ONLINE –
Direct Shipping Across Canada and Local Winnipeg Pick-Up!
Store Hours (Limited Capacity Browsing and Curbside Pick-Up) –
Monday to Saturday, 12:00pm to 7:00pm
Sunday, 12:00pm to 6:00pm
Our Retail Stores have now reopened WITH RESTRICTIONS.
You can find more details here.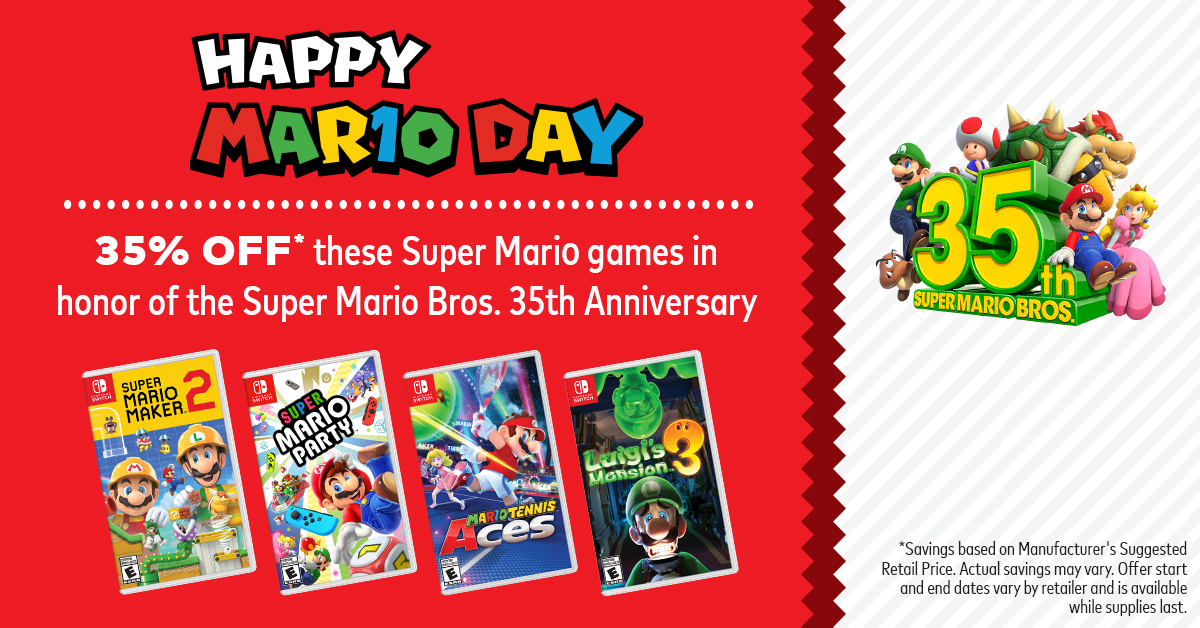 Celebrate Mario's big day, MAR10, with 35% OFF on Select Nintendo Switch Titles
March 5th – 11th, 2021!
Luigi's Mansion 3 – $51.99 (Reg. $79.99)
Mario Tennis Aces – $51.99 (Reg. $79.99)
Super Mario Maker 2 – $51.99 (Reg. $79.99)
Super Mario Party – $51.99 (Reg. $79.99)

More Mario on Nintendo Switch!
Mario Kart Live: Home Circuit (Mario OR Luigi Set) – $129.99 Each
Mario + Rabbids Kingdom Battle – $29.99 (Reg. $79.99)
Mario and Sonic at the Olympic Games Tokyo 2020 – $59.99 (Reg. $79.99)
Super Mario 3D All Stars – $79.99
Super Mario 3D World + Bowser's Fury – $79.99
Nintendo Switch Console – $399.99 – Available with Grey or Neon Blue/Red Joy-Cons.
Nintendo Switch Animal Crossing New Horizons Special Edition Console – $399.99
Nintendo Switch Lite Console – $259.99 – Available in Turquoise, Yellow, Grey, and Coral.
Game and Watch: Super Mario Bros. Console – $69.99
POWER A Enhanced Wireless Controllers (Animal Crossing, Minecraft, OR Pikachu 25th Anniversary) – $69.99
NEXILUX Motion Controllers (Joy Con alternative, Grey OR Clear Blue/Red) – $59.99 (Reg. $69.99)
Bulk SanDisk 128GB Micro SD Memory Card (for Nintendo Switch)* – $19.99 (Reg. $29.99)
PDP 'Quintessential Kit' (Includes Travel Case, Screen Protector, JC Guards, and Earbuds) – $24.99 (Reg. $39.99)
POWER A Stealth Case Kit for Nintendo Switch Lite – $9.99 (Reg. $19.99)
Tempered Glass Screen Protectors for Standard Switch (2 Pack) – $12.99 (Reg. $14.99)
Tempered Glass Screen Protectors for Switch Lite (2 Pack) – $12.99 (Reg. $14.99)
Cat Mario and Cat Peach Amiibo – $21.99 Each
Bowser and Bowser Jr. Amiibo – $15.99 Each
$59.99 Sale Items
Kingdom Hearts: Melody of Memory (PS4/NSW) – $59.99 (Reg. $79.99)
The Legend of Zelda: Breath of the Wild (Wii U) – $59.99 (Reg. $79.99)
$49.99 Sale Items
Cyberpunk 2077 (PS4/XB1) – $49.99 (Reg. $79.99)
$39.99 Sale Items
Crash Team Racing Nitro-Fueled (PS4/XB1) – $39.99 (Reg. $49.99)
FIFA 21 (PS4/XB1) – $39.99 (Reg. $79.99)
Immortals Fenyx Rising (NSW Only) – $39.99 (Reg. $79.99)
Need for Speed Hot Pursuit Remastered (PS4/NSW/XB1) – $39.99 (Reg. $54.99)
NHL 21 (PS4/XB1) – $39.99 (Reg. $79.99)
Sekiro: Shadows Die Twice (PS4/XB1) – $39.99 (Reg. $79.99)
Spyro Reignited Trilogy (PS4/XB1) – $39.99 (Reg. $49.99)
Watch Dogs: Legion (PS4/PS5/XB1) – $39.99 (Reg. $79.99)
$29.99 Sale Items
Azure Striker Gunvolt: Striker Pack (NSW) – $29.99 (Reg. $49.99)
Bayonetta and Vanquish 10th Anniversary Bundle (PS4/XB1) – $29.99 (Reg. $54.99)
$19.99 Sale Items
Elder Scrolls Online Gold Edition (PS4/XB1) – $19.99 (Reg. $79.99)
Persona 5 Standard (PS Hits) (PS4) – $19.99 (Reg. $29.99)
$9.99 Sale Items
Agents of Mayhem (PS4) – $9.99 (Reg. $14.99)
Black Clover: Quartet Knights (PS4) – $9.99 (Reg. $24.99)
GT Sport (PS Hits) (PS4) – $9.99 (Reg. $19.99)
Homefront: The Revolution (PS4/XB1) – $9.99 (Reg. $19.99)
Space Hulk (PS4) – $9.99 (Reg. $29.99)
Space Hulk Ascension (PS4) – $9.99 (Reg. $29.99)
Uncharted: The Lost Legacy (PS4) – $9.99 (Reg. $19.99)
PlayStation VR Marvel's Iron Man Bundle (for PlayStation 4, includes convertor cable for PS5!) – $449.99
Firewall Zero Hour Aim Controller Bundle (PSVR) – $89.99 (Reg. $99.99)
Blood and Truth (PSVR) – $29.99 (Reg. $49.99)
Fruit Ninja VR (EU Import) (PSVR) – $29.99
Marvel's Iron Man (PSVR) – $29.99 (Reg. $49.99)
PlayStation 5 Pulse Headset – $129.99
PlayStation 5 DualSense Controller – $89.99
Instinct PlayStation 4 Gaming Headset – $19.99
DualShock 4 Back Button Attachment – $29.99 (Reg. $39.99)
Xbox Series S/X Carbon Black Controller + USB-C Cable Bundle – $74.99
Xbox (Series S/X Controllers) (Carbon Black OR Robot White) – $74.99
Kunai Stereo Headset for Xbox – $39.99 (Reg. $49.99)
All Prices in CAD.
While supplies last. No holds or rain cheques.
*SanDisk 128GB Micro SD Memory Card (for Nintendo Switch) NEW in Bulk Packaging