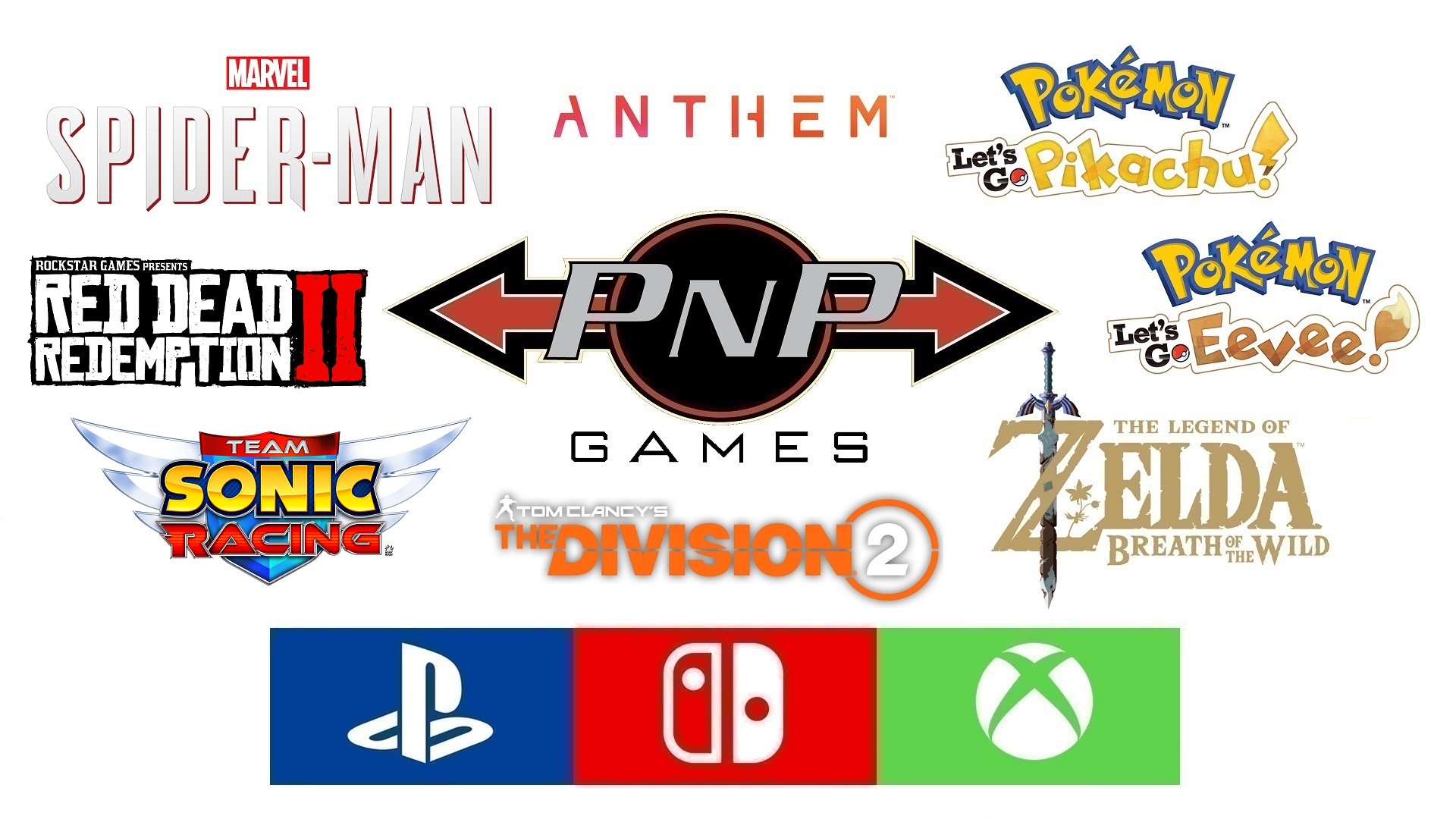 Receive 15% additional trade credit when trading in any complete PlayStation 4, Nintendo Switch, or Xbox One titles at any PNP Games location!*
Purchase a Grey OR Neon Joy-Con Nintendo Switch Console for $379.99 and receive a $30 PNP GAMES GIFT CARD FREE!**
Anthem (PS4/XB1) – $19.99 (Was. $39.99)
Bass Pro Shop Strike Bundle with Rod Accessory (NSW) – $39.99 (Reg. $59.99)
Cabela's The Hunt Bundle with Gun Accessory (NSW) – $39.99 (Reg. $59.99)
Fallout 76 (PS4/XB1) – $29.99 (Reg. $79.99)
The Legend of Zelda: Breath of the Wild (NSW) – $69.99 (Reg. $79.99)
Just Dance 2019 (PS4/NSW/XB1) – $29.99 (Was. $49.99)
Marvel's Spider-Man (PS4) – $29.99 (Reg. $49.99)
NHL 19 (PS4/XB1) – $24.99 (Reg. $29.99)
Pokémon Let's Go Pikachu (NSW) – $69.99 (Reg. $79.99)
Pokémon Let's Go Eevee (NSW) – $69.99 (Reg. $79.99)
Red Dead Redemption 2 (PS4/XB1) – $59.99 (Reg. $79.99)
Team Sonic Racing (PS4/NSW/XB1) – $39.99 (Reg. $54.99)
Tom Clancy's The Division 2 (PS4/XB1) – $59.99 (Reg. $79.99)
PlayStation 4 Pro 1TB Console – $449.99 (Reg. $499.99)
PlayStation 4 Slim 1TB Console – $349.99 (Reg. $379.99)
PlayStation Classic – $49.99 (Reg. $79.99)
Sony Platinum Wireless Stereo Headset – $169.99 (Reg. $199.99)
Kunai Stereo Headset [TRITTON] – $29.99 (Reg. $49.99)
PlayStation 4 DualShock 4 Controllers (Black ONLY) – $59.99 (Reg. $74.99)
Xbox One X 1TB PUBG Bundle – $479.99 (Reg. $599.99)
Xbox One S 1TB Sea of Thieves Bundle – $279.99 (Reg. $379.99)
Xbox One Stereo Headset – $59.99 (Reg. $74.99)
Xbox One Elite Controller (Black ONLY) – $149.99 (Reg. $189.99)
Xbox One 3.5mm Controllers (White, Black, OR Grey/Blue) – $49.99 (Reg. $74.99)
Tempered Glass Screen Protectors (2 Pack) – $9.99 (Reg. $14.99)
Poké Ball Plus – $59.99 (Reg. $64.99)
Datel Go-tcha Wristbands (for Pokémon Go) – $39.99 (Reg. $49.99)
HORI D-Pad Joy-Con Controller (Mario or LoZ Styles) – $24.99 (Reg. $32.99)
-Only functions in undocked/portable mode.
*This bonus does not apply to incomplete games, accessories, or systems.
**Free Gift Card with purchase of Grey or Neon Joy-Con Switch consoles only (PROMO CODE: 2019JULYGC)
While supplies last. No holds or rain cheques.